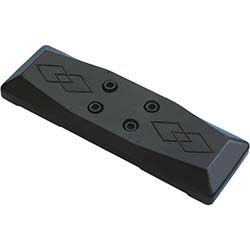 Track Pads for Surface Conservation
Heavy tracked equipment such as excavators, horizontal drilling rigs (HDD's) are fitted with profiled steel grouser shoes. When these machines are required to march over/work on paved roads, the steel grousers damage the surface.
Steel-Reinforced, wear resistant, Rubber Pads can be fitted over the steel grousers thus permitting unrestricted movement on paved areas without causing any damage. Other benefits include better traction on hard surfaces, reduced noise & vibrations and increased operator comfort.
Rubber pads can be easily fitted on site without any specialized tools and are available in different types to suit different machines & grouser widths